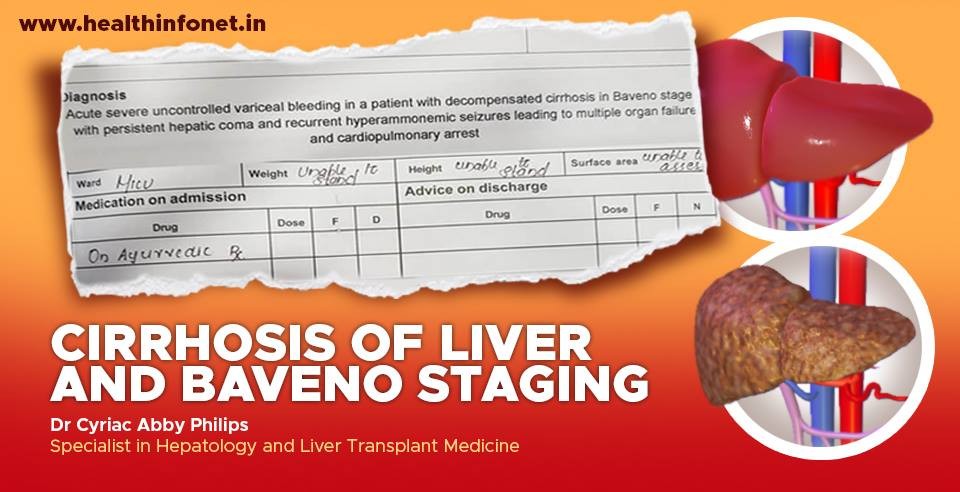 At the top of the picture is the diagnosis of a young man who died yesterday in the liver intensive care unit. At the bottom, was the treatment he was on for the last one year since he was diagnosed with cirrhosis of the liver. His Ayurveda doctor prescribed him all sorts of medications including liquids, powders and tablets that promised him a cure from cirrhosis in due course and strong control over complications of cirrhosis meanwhile. At diagnosis, he did not have a single complication of cirrhosis.
Well, cirrhosis, it goes like this – like any other chronic illness known to man, cirrhosis too, has a 'natural history'. It is how the disease moves forward and it will move forward. That's a rule we can't change. Like birth and death. It has to happen. What, as physicians we are able to do, is to slow down that progression and give a long transplant free survival or TFS to the patient. Every cirrhosis patient goes through 5 stages of the disease – also called Baveno Staging – http://www.journal-of-hepatology.eu/…/S0168-8278(15)003…/pdf
[named after a little town in Italy where the most prestigious exclusive liver disease conclave on setting guidelines for treatments and definitions for cirrhosis and other liver diseases are made, every five years. Getting a seat at this prestigious event means you are one among the pillars in liver disease clinical practice. Think of it as becoming one of the great ministers in the Ministry of Magic – no, not Ayurveda magic. But, as in Harry Potter].
Baveno Stage 1 is when cirrhosis is diagnosed, Stage 2 is when there is development of swollen blood vessels in the food pipe (varices) – beta blockers, a group of drugs that decrease liver pressure and lowers risk of bleeding is given in this stage; Stage 3 is that of variceal bleeding, where the patient either vomits blood or passes black tarry stools (a sign of internal bleeding from the digestive tract), Stage 4 is development of fluid in the abdomen also called ascites and Stage 5 is when patients have multiple complications, such as jaundice, brain failure (hepatic encephalopathy), severe infections (sepsis) and multiple organ failure. The treatment that is best offered in Stages 1 and 2 are very simple – control the cause of cirrhosis – obese patients need to lose weight, alcoholics need to stop drinking and those with viral diseases such as hepatitis B and C have to start antivirals. In Stage 3, patients undergo endoscopy and banding of bleeding blood vessels or a TIPSS procedure in uncontrolled bleeding (when the patient is not jaundiced and without brain failure), in Stage 4 – diuretics, a groups of drugs that decrease the fluid in abdomen and salt restriction is followed and in Stage 5 – if there is a reason that led to stage 5 all of a sudden – for example relapse of alcoholism or severe infections – then the reasons are controlled so as to see if the patient goes back to a lower stage and if not controlled, and if the patient stays in Stage 4 or 5, then a Model for End Stage Liver Disease Score (https://reference.medscape.com/…/meld-score-end-stage-liver…) is calculated to identify those who will benefit from liver transplant in the long term.
Treating cirrhosis Stage wise is best – kind of like repairing a car – it breaks down a few times and a good servicing will keep it running, until one day the car just stops and refuses to start – then it's all about getting a nice new car but you must be healthy enough to drive it too! The repairing is what will increase TFS in patients of cirrhosis. So according to the stages, Stage 1 or 2 could reach Stage 4 or 5 in a minimum of 12 to 14 years! Yes, that long if the control of causes and management is really good and patients are well directed.
This patient who died, was diagnosed a year back, and was possibly in Stage 2. No endoscopy was done at the time to look at potential bleeding veins in the food pipe. He was never on beta blockers. He was given Ayurveda and herbal treatments that CAN NEVER CURE cirrhosis. An act of total medical negligence for which no A.Y.U.S.H practitioners will face violence or litigations (but modern medical practitioners get beaten up and cut, trying to save lives the right way). After taking the Ayurveda medicines for seven months, he developed jaundice for which more Ayurveda medicines were prescribed, including 'Arishtams' or decoctions containing alcohol. The jaundice obviously worsened – that is progression to Stage 5 in seven months instead of 12 years due to brilliant Ayurveda management. When the patient bled massively (Stage 3 on 5 – catastrophic!), the Ayurveda doctor asked him to go to a proper Physician. The state in which we received the patient was deeply saddening. In a coma – on top of which we performed an emergency endoscopy and banded the bleeding vessels. However, the damage had already been done – the patient never came back from the coma. His brain was fried to a crisp without the required oxygen supply, the massive bleeding increase ammonia levels in his blood that circuited his brain cells to fire like crazy, leaving him in a state of uncontrolled seizures and finally, he died of multiple organ failure.
Ayurveda is still deeply rooted in treating 'symptoms' rather than 'syndromes' or 'diseases' which is what true science deals with. With Ayurveda and other alternative medicine, therein lies the biggest problem and the most important fact that points towards ineffectiveness of this ancient system. Modern science may not reverse or completely cure cirrhosis, which is why in the natural history of cirrhosis, liver transplantation still holds ground. Ayurveda can NEVER claim to cure cirrhosis or control its complications. Everything in this front is fake and a hoax. In this era and age, Ayurveda still talks about getting the 'Pitta - Dosha' (fiery elemental energy) right in curing cirrhosis. Seriously. The only Dosha I can really think of getting right is the one I have with chilly and coconut chutney for breakfast.
These following links on the internet are classical examples of false promises and disgusting pseudoscience discussions to trap patients: These are a joke:
http://www.charaka.org/liver-cirrhosis/
http://ayurvedayogashram.com/cirrhosis-liver.asp
http://www.athayurdhamah.com/diseases-and-d…/cirrhosis-liver - in this link the speaker says "Now if the cause is viral infection as in hepatitis, in allopathic science there is no proven antiviral". This guy must be put in jail because he neither knows, nor updated on powerful safe antivirals for hepatitis B and C currently in use, saving thousands of lives.
http://clinic.healthmailer.info/liver.html… – Cow urine therapy for cirrhosis. Wow. Just Wow. Cow urine also has four United States patents! - https://www.quora.com/Why-does-the-US-have-4-patents-on-Ind…
Even now, many patients, opt for Ayurveda treatments for cirrhosis and its complications. It is pure stupidity. It is like going back to the Ice Age in medical management.
Even today, a patient came into my OPD and asked me whether he could start Ayurveda treatment for cirrhosis along with the modern medicines I prescribed him.
Will you use dog shampoo to bathe your kids?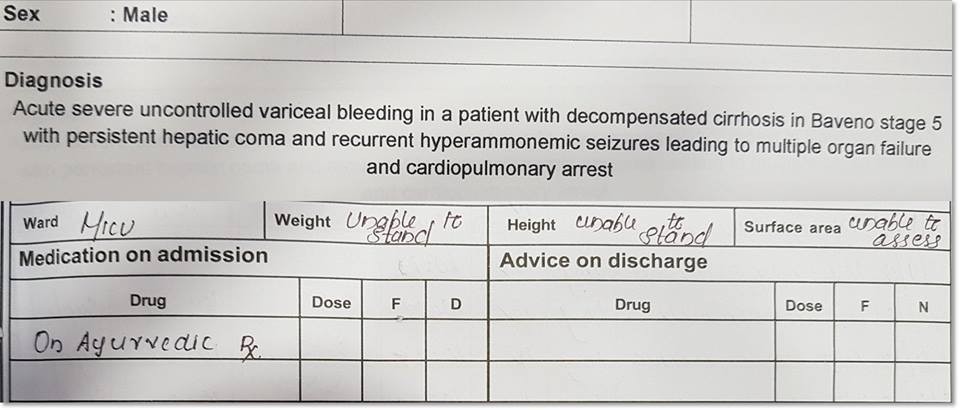 Written By
Dr. Cyriac Abby Philips MD DM (Hepatology)
Fellow of the Royal Society of Medicine

Consultant - The Liver Unit, Cochin Gastroenterology Group

Managing Director, Philip Augustine Associates (P) Ltd

E. M. C, NH-Bypass, Palarivattom
Kochi - Kerala - India
Readers can Interact with the author by enrolling into the e-module on Drug Induced liver injury-Ayurvedic and herbal medicines by Dr Cyriac Abby Philips .The Link
https://health-infonet.teachable.com/p/drug-induce...